Overview
Addigy's device management services are in huge demand as more organizations increasingly deploy Apple devices into the workplace. To monitor these Apple devices, they are subscribing to Addigy's MDM service to manage fleets of iPhones and Macs. To manage this growth, Mark Petrie, VP of Business Operations at Addigy, turned to Salesforce™ and iDialogue to automate their quoting process.
iDialogue Lightning Component Added to Opportunity page layout enables one-click quote generation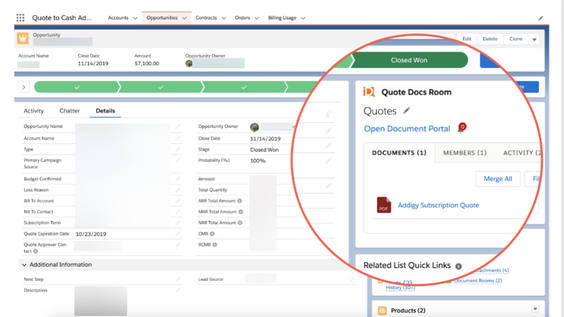 Addigy's quoting process is integrated directly with their Opportunity management workflow. Adding the iDialogue lightning component to the Opportunity page layout gives their Sales Reps one-click access to generating PDF quotes.
Mark used the Salesforce™ lightning page designer to configure specific visibility and sharing rules around the document component.
Pixel-perfect layout design with dynamic merge rules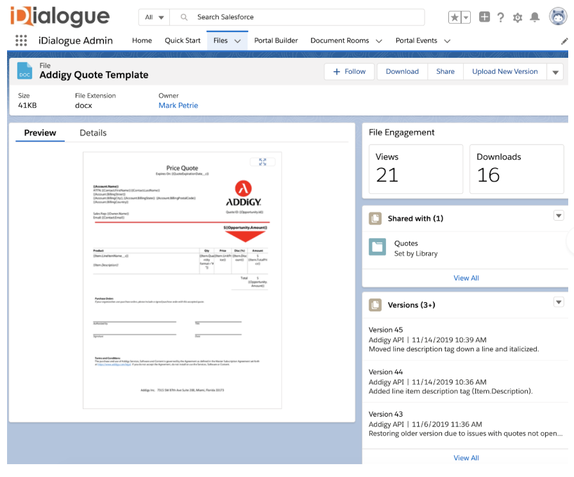 "We started with a specific vision and design of how our quotes and invoices should be formatted. iDialogue's use of Word documents as templates allows for a pixel-perfect layout design."
After uploading the Word document templates to Salesforce™ Files, Addigy was able to leverage the features of CRM Content for version control and change management. Each successive template change is documented with a change reason. The iDialogue tag builder is integrated with the File record page layout for validating the merge tags with actual Salesforce™ schema.
Addigy had specific requirements around the "Quote Good Until Date" displayed in the quote template, and the need to conditionally remove the discount column.
"We utilized Salesforce™ formula fields for dynamic merge tags, terms and conditions, and clauses in the quote template. The complexity of date/time rules for the Good Until Date were easily reduced to some macros in a formula field. The template was kept clean and separate from the business rules calculated in Salesforce™."
Quote Delivery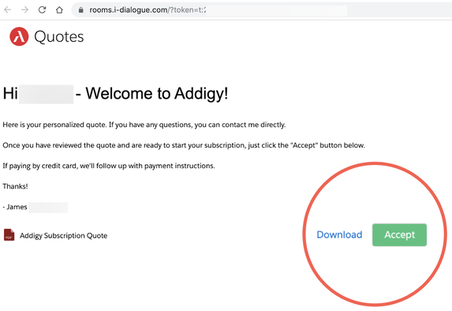 "Addigy continues to raise the bar for ease-of-use and reduced time-to-value, so we require a frictionless one-click quote acceptance and onboarding experience for our customers."
Addigy uses standard PDF email attachments and invitation links to the document portal to deliver quotes to customers. The portal landing page is branded with a personalized message to the Contact recipient and an "Accept" button to activate their subscription.
Process Automation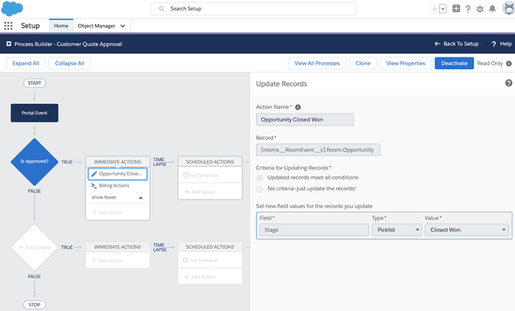 Upon clicking the quote "Accept" button, Addigy created a process builder flow that automates several post-acceptance actions; such as notifying Sales Reps, closing the Opportunity, and provisioning contract / billing records.
"Lightning Process Builder is really a game changer for our organization. iDialogue events and actions are integrated natively into the process builder, which gives me great freedom to configure complex, automated business processes in response to customer interactions."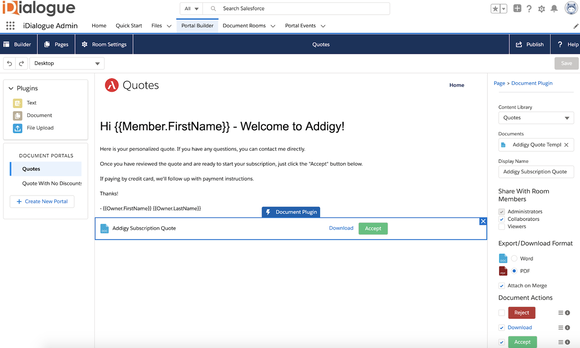 Portal builder with Addigy Subscription quote template added to page. The Action Buttons feature in iDialogue portal was utilized to add an "Accept" action to the quote delivery landing page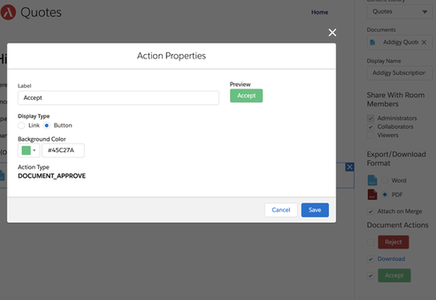 A Quote "Accept" action button was configured for the quote. The action creates a Portal Event record in salesforce for use in process builder flows.
Concierge Services and Support
"The concierge services provided by Pacific Apps are an extension of our own team. We implemented Slack's shared channel feature to directly connect with Mike and his team. The ability to chat in real-time with iDialogue experts allows me to operationally focus on our business and delegate routine document-related tasks to Pacific Apps."
Next Steps
"Deploying iDialogue has helped us see the possibility of managing our entire quote-to-cash process in Salesforce™. Other business units and our Investors are increasingly turning to Salesforce™ as the system of truth for key performance metrics, like MRR and ARR."
Pacific Apps and Addigy collaborated to develop a best-of-breed subscription Quote-To-Cash solution that applies the same quote template methodology to monthly customer invoices.