Background
Kerrie Lloyd is a caring parent of a child with disability and the founder of Integrative Solution Services LLC. In the years of being the primary caregiver for her autistic son, Adam, Kerrie was frustrated by the lack of tools and technology that could effectively address the need for better care coordination and collaboration between parents, caregivers and institutions.
Challenge
Sharing, routing and storing documents and healthcare information in a secure, timely and traceable manner were particularly challenging. Kerrie found herself frequently performing the time-consuming tasks of generating, faxing, emailing and tracking the whereabouts of sensitive healthcare information.
Driven by the vision to create a platform that could effectively connect every care provider and organization in the ecosystem who cares for individuals with disability, Kerrie teamed up with Pacific Apps, Inc. to create a mobile app called "CollaborApp®" using iDialogue as the engine.
Secure document management and tracking​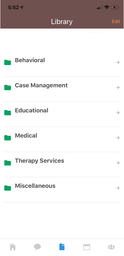 iDialogue Document Portal allows care administrators and parents to upload and share healthcare information and documents in a HIPPA compliant environment. Tracking is made easy with iDialogue audit trail that provides a history of activities and interactions between users and documents.
A connected community improves care coordination
Members of the care community receive email invitations with secure tokens to access and collaborate in the iDialogue Document Portal with secure messaging capabilities. CollaborApp®'s chat and event functionality enable timely communication and keeps the care community up to date about important appointments, events and care instructions.
Mobile experience improves timeliness of information sharing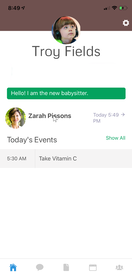 iDialogue's mobile first architecture made the delivery of CollaborApp® functionality via mobile devices possible. This transforms the collaborative experience of the users and improves the timeliness of information sharing by providing real time, on-the-go, anywhere access to information.
Personalized care that improves patient well-being
As a result, care providers can better understand the unique needs of the patient in order to provide more proactive, consistent, personalized care. Parents like Kerrie can save time on administrative tasks and focus more energy on improving Adam's overall well-being. The combination of iDialogue and the Salesforce™ platform creates a powerful environment for a variety of feature enhancements in delivering personalized 1-to-1 consumer/patient journey.